Workshop sobre imagenes Biomédicas UC & Kings College London (KCL) 23-24 marzo 2017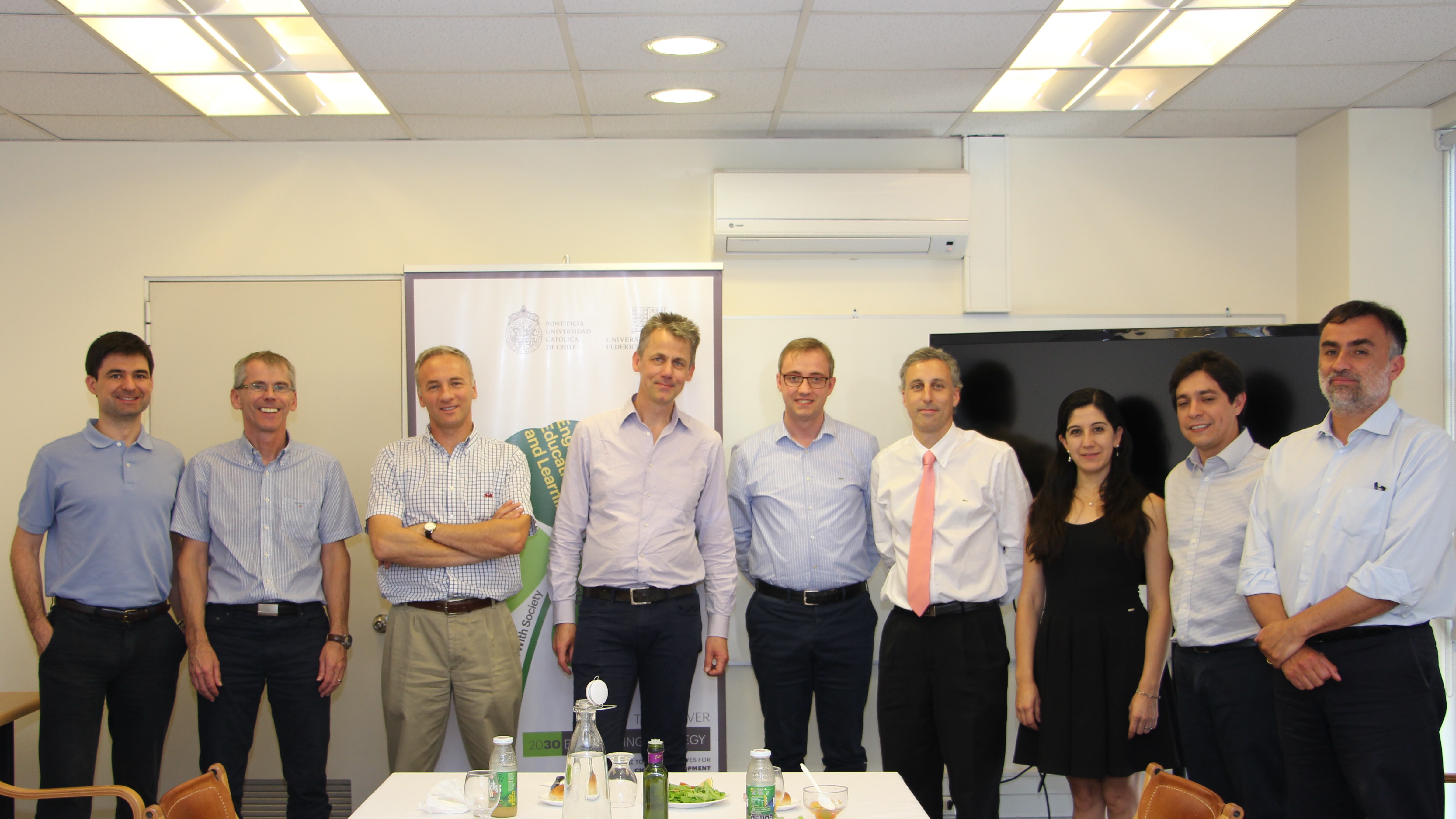 El Centro de Imagenes Biomédicas en conjunto con el Instituto de Ingeniería Biológica y Médica organizan en conjunto un Workshop sobre Imágenes Biomédicas entre la UC, la Division of Imaging Science and Biomedical Engineering de la Facultad de Medicina del Kings College London (KCL) y Philips para el 23-24 de marzo de 2017.
La idea es estrechar lazos de cooperación, formalizar un posible programa de doble Doctorado, conocer la experiencia del programa de Ingeniería Biomédica de KCL, difundir la creación del Instituto de Ingeniería Biológica y Medica UC y mostrar lo que hacemos en Chile a ejecutivos de Philips de Holanda que acompañarán la comitiva de KCL.
El grupo que nos visitará estará compuesto por 2 profesores, 3 post-doctarados y 2 alumnos de doctorado de KCL y el Senior Clinical Scientist in Cardiovascular MR de Philips Dr Jouke Smink. Dentro del grupo de profesores destaca el Dr Amedeo Chiribiri, quien es cardiólogo y lidera muchos proyectos de traspaso de investigación básica en imágenes biomédicas a aplicaciones clínicas.
KCL-UC Biomedical Imaging Workshop
Santiago de Chile, March 23-24 2017
Programme
March 23: Campus San Joaquín – CIB-Philips Workshop (Sala de Usos Múltiples, Ingeniería)
9:00-10:00     San Joaquin tour starting from CIB
10:00-10:30   CIB* road map in MRI acquisition and reconstruction
10:30-11:00   Philips road map in MRI acquisition and reconstruction
11:00-11:30   Coffee break
11:30-12:30   Philips intro to Release 5
12:30-14:00   Lunch break
14:00-15:00   Philips intro to Recon 2
15:00-15:30   Coffee break
15:30-17:00   Round table discussions
March 24: Campus Casa Central – Scientific Workshop (Sala 1, Centro de Extensión)
Session 1: (9:00-10:30)
9:00-9:20        Dean School of Engineering (Juan Carlos de la Llera)
9:20-9:40        Overview of IIBM at UC (Pablo Irarrazaval)
9:40-10:00     Overview of Imaging Sciences and Biomedical Engineering at KCL (and CDT) (René Botnar)
10:00-10:30   Biomedical Imaging: Where Industry and Academia Meet (Jouke Smink, Philips)
Coffee break (10:30-11:00)
Session 2: (11:00-13:00)
11:00-11:30 Quantitative myocardial perfusion imaging (Amedeo Chiribiri)
11:30-11:45   DVT and atherosclerosis more than an epidemiological link (Marcelo Andia)
11:45-12:00   Myocardial fibrosis: 3D quantitative T1 mapping of the heart (Giovanna Nordio)
12:00-12:15   Myocardial remodeling and imaging challenges in hypertension and heart failure (Jorge E Jalil)
12:15-12:30   Coronary lumen, thrombus and haemorrhage: Multi-contrast cardiac MR (Giulia Ginami)
12:30-12:45   The future of coronary microcirculation assessment in the cath lab (Gonzalo Martinez)
12:45-13:00   3D quantification of cardiovascular hemodynamic parameters from 4D flow MRI data using finite element interpolations (Julio Sotelo)
Lunch (13:00-14:30)
Session 3: (14:30-16:00)
14:30-15:00   Computational fluid dynamics of blood vessels (Jordi Alastruey)
15:00-15:15   Estimation from CT images of mechanical stress in lung tissue caused by artificial respiration machines (Daniel Hurtado)
15:15-15:30   Cardiac PET-MRI: Simultaneous Coronary Lumen and Myocardial Viability (Camila Munoz)
15:30-15:45   Intracranial Vessel Wall Imaging in Clinical Practice (Juan Pablo Cruz)
15:45-16:00   Segmentation of MR images for biomedical applications (Cristobal Arrieta)
Session 4: (16:15-17:15)
16:15-16:30   Tissue characterization: Magnetic resonance fingerprinting (Gastao Cruz)
16:30-16:45   Modeling of high-intensity focused ultrasound wave propagation through ribcages for tumor ablation (Elwin van 't Wout)
16:45-17:00   Undersampled image reconstruction for cardiac MRI (Teresa Correia)
17:00-17:15   Quantitative susceptibility mapping (Carlos Milovic)
Casa Central Tour (17:15-18:00)
http://www.ing.uc.cl/instituto-de-ingenieria-biologica-y-medica-uc-y-kings-college-london-exponen-investigaciones-sobre-imagenes-biomedicas/